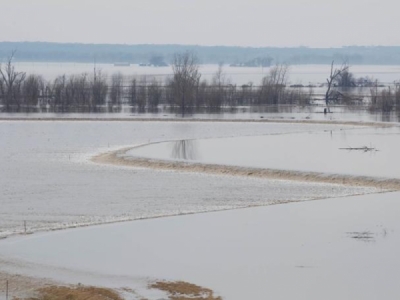 Water runs over the levee protecting Hamburg, Iowa, on Sunday, March 17, 2019. RYAN SODERLIN/THE WORLD-HERALD
Posted on April 17, 2019
A community whose residents have been flooded out of their homes since mid-March finally has some good news.
The U.S. Army Corps of Engineers has awarded a $7.5 million contract to repair the levee breach along the Missouri River that allowed Percival, Iowa, to flood.
The contract was awarded to Western Contracting Corp. of Sioux City, Iowa.
Most of the fill to patch the levee will be dredged from the Missouri River. The work is expected to take 60 days.
The flood of 2019 set record levels at 45 river gauges, including five on the Missouri River.
FEMA has disbursed $15 million to Nebraskans so far
As of Friday, the Federal Emergency Management Agency has provided more than $15 million to Nebraskans for housing and other individual needs. The Small Business Administration has awarded nearly $3.8 million in low-interest disaster loans.
Additionally, people seeking work may be able to find temporary employment with FEMA. The agency is seeking help in Nebraska. Visit USAJOBS.gov, create an account, search for "FEMA local hire" and indicate "Nebraska" in the location box.
Source: omaha.com