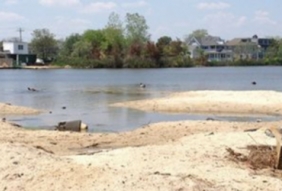 Posted on November 18, 2015
By Erik Larsen and Amanda Oglesby, app.com
ince superstorm Sandy struck, Twilight Lake floods often.
The storm dumped sand into the lake when it pushed feet of water through this Bay Head neighborhood in 2012, raising the already shallow lake bed. The video below shows ocean water pouring onto streets in the community.
In the three years since, Twilight Lake has overflowed its banks during heavy rain and nor'easters.
"We have a low part of the town, and it floods constantly," said Bay Head Mayor Bill Curtis. "We need to … keep the water in Twilight Lake instead of on people's property."
READ FULL ARTICLE HERE