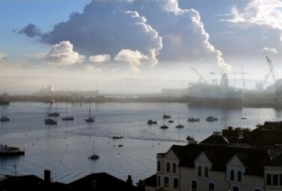 Posted on September 30, 2015
Falmouth traders were commiserating after the biggest cruise liner of the season was unable to dock in the bay this morning.
The Norwegian Star, which was expected to bring between 800-1000 visitors to Falmouth was not able to dock this morning.
Heavy swell in Falmouth Bay meant that the cruise ship decided not to risk docking and headed on to its next destination.
The Norwegian Star had been expected to arrive in Falmouth early on Monday morning but made a late decision to continue its journey onto the next port.
Traders were left disappointed as many had been preparing for a boost in numbers visiting their shops.
Tracey Woodcock, who works at Bow in Falmouth, said: "Gutted, up early to get the shop open ready to received over a thousand customers, got all the staff in, this was our first really large cruise ship, what a dreadful shame."
Phil Boddy, of the Falmouth Cruise Ship Ambassadors said: "28 tour buses have been cancelled and hundreds have not been able to spend their money in Falmouth.
"I believe there would have been 2,000 passengers and maybe 800 crew, they all have got money in their pocket which they could have spent."
There is also a feeling that the Norwegian Star would have been able to come into port if the dredging of Falmouth Harbour had happened.
Mr Boddy said: "The ship would have been in port if the dredging had been done."
The Norwegian Star would have been the largest cruise ship to arrive in Falmouth this season.