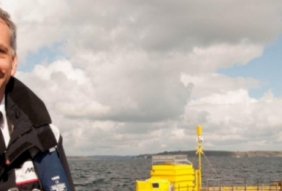 Mark Sansom
Posted on November 23, 2015
Falmouth Harbour will appear on BBC One's Countryfile this Sunday in a story looking at the dredging of British ports.
During the programme (Nov 22, 6.15pm), rural correspondent Tom Heap will explore the economic and environmental considerations surrounding the dredging of ports.
Falmouth Harbour Commissioner's chief executive and harbour master, Captain Mark Sansom, is interviewed for the story on board a pilot boat navigating the approach channel into Falmouth Docks – the area the Commissioners and the Docks Authority have applied to dredge to enable larger vessels to berth in the port.
Drawing on figures from an August 2015 study into the economic value of the Port of Falmouth, Sansom will highlight the report findings and the importance of dredging to the port's future.
The study, commissioned by Cornwall Development Company, reports how the Port supports 1,400 jobs resulting in approximately £37 million in salaries that go into the local economy. It is the safeguarding of this substantial value to the region, which Sansom stresses as one of the key reasons for dredging.
Commenting on the interview, he said: "Countryfile's story was a good opportunity to highlight the tremendous importance of dredging. The port is one of the main employers in Cornwall and provides significant economic benefit to the local economy.
"The Port needs to develop to keep up with increases in ship size. This is well illustrated by the cruise sector where cruise calls have dropped significantly due to the increasing size of the vessels and increasing reluctance to tender passengers ashore from an anchorage."
The proposal to dredge Falmouth Harbour to deepen the approach channel to allow bigger vessels to come into the harbour was first submitted in 2004 with a further application submitted in 2009. It was identified in the 2011 Port Masterplan as a key project for ensuring the future of Falmouth as a successful port.