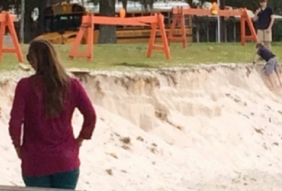 Posted on March 14, 2016
By Hal Scheurich, WTVM.com
The city of Fairhope is having to speed up its beach replenishment plan thanks to recent storms. Violent weather two weeks ago caused severe erosion to Magnolia Beach near Pier Street.
Barricades line a small strip of grass between the sidewalk and what's left of Magnolia Beach near the public boat launch at Pier Street. The drop-off is six to eight feet in places thanks to high winds and waves caused by severe weather the last week of February 2016.
"I really couldn't believe it. It had so much damage. We couldn't. We were shocked," said Fairhope resident, Julie Harcrow.
READ FULL ARTICLE HERE