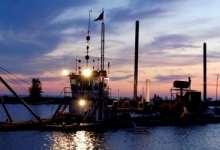 Posted on August 25, 2015
By Brian Nearing, TimesUnion.com
Federal officials defended their decision Friday to allow General Electric to begin taking apart its PCB processing facility on the Hudson River, even though a company plan to the Environmental Protection Agency to shutter the facility has not been acted upon or even made public.
"Although some dismantling of decontaminated equipment is under way — primarily the north wharf and associated filter presses — no significant equipment has left the site," said EPA spokesman John Martin. "The south wharf is fully functional. Dismantling of equipment no longer needed to complete the project has been discussed with stakeholders."
Dismantling of the sprawling Fort Edward facility comes amid growing calls from local and state elected officials, as well as environmental groups, for GE to expand dredging to include the silt-impaired Champlain Canal and other parts of the river with high PCB levels.
READ FULL ARTICLE HERE