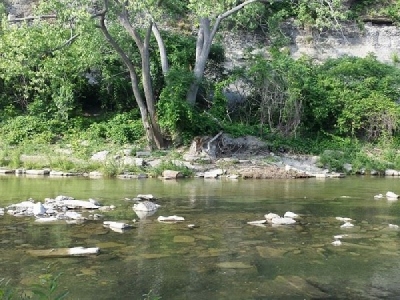 Posted on September 11, 2016
By Rachel Fuerschbach, Niagara Gazette
Concerns over warning signs and potential dredging during the cleanup of Eighteenmile Creek were addressed during a public hearing Wednesday night.
Interested community members were able to ask U.S. Environmental Protection Agency officials questions about the continuing cleanup of the Eighteenmile Creek Corridor Site in the city during a public meeting at the Niagara County fairgrounds.
The second phase of cleanup at the Superfund-listed, inactive hazardous waste site is being planned now. EPA has proposed dredging sediment in the creek corridor, a 1-mile swath between the Erie Barge Canal at Clinton Street and Harwood Street, and excavating contaminated soil at nearby properties including Upson Park, White Transportation, the site of the former United Paperboard Company and the site of the old Flintkote plant.
PCBs, lead and other contaminants are to be removed.
At the meeting, questions were asked about signage warning recreational fishers against eating fish caught in the creek between Lockport and Olcott, the downstream end point of a larger Eighteenmile Creek Superfund site.
Signs are to be posted along the length of the contaminated area by the county health department, according to Peter Mannino, chief of the Western New York Remediation Section and Superfund.
Mark Devine, the city's 3rd Ward alderman, inquired whether dredging of contaminated sediment in the creek bed would be done wet or dry. Mannino said the plan is to do it dry; a dike will be set up and the creek flow will be diverted.
Devine also tried going to bat for two Walter Street homeowners living on contaminated property who were not included in EPA's phase-one buyout/resettlement program. Five homeowners on Water Street close to the Flintkote property were resettled, and their properties were demolished, on a finding of land contamination. Devine asked EPA officials to try and do something for two others who were not relocated, due to an EPA determination that their properties were not contaminated.
Alderman at Large Joe O'Shaughnessy asked about the phase two cleanup timeline.
According to Mannino, the EPA is accepting public comments about its proposal until Sept. 30, after which it will publish a "Record of Decision" showing all public comments and EPA's decision which specific cleanup alternative it will pursue. Then, the alternative will be designed/engineered, a process that could take between 18 months and three years, he said.
Written comments on the proposed phase two plan can be mailed to Jaclyn Kondrk, Remedial Project Manager U.S. Environmental Protection Agency, 290 Broadway, 20th Floor, New York, NY 10007. Or emailed to kondrk.jaclyn@epa.gov by Sept. 30.
The proposed plan is available at www.epa.gov/superfund/eighteenmile-creek. A copy can be sent by mail per request by contacting Michael Basile, EPA's Community Involvement Coordinator at 551-4410.
Source: Niagara Gazette