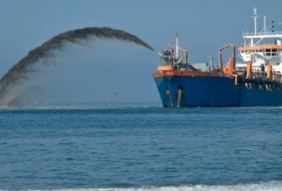 Posted on February 15, 2016
By Gregory B. Hladky, Hartford Courant
The U.S. Environmental Protection Agency offered two amendments Wednesday to a controversial 30-year federal plan for disposing of tens of millions of cubic yards of dredged materials in two open-water sites in Long Island Sound.
The EPA's proposals are aimed at encouraging alternative uses for sand and silt dredged up from harbors and marinas in the Sound, with the goal of "reducing or eliminating dredged material disposal in open waters of the Sound," according to federal officials.
A Connecticut environmental official said the proposals make "no significant changes" to the disposal plan made public last month by the U.S. Army Corps of Engineers. "We support these amendments," said Dennis Schain, a spokesman for the state Department of Energy and Environmental Protection.
READ FULL ARTICLE HERE