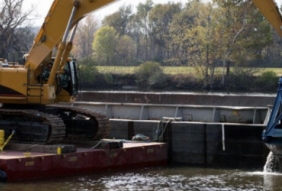 Posted on March 1, 2016
By Patrick Garrett, WAMC
Dredging operations on the upper Hudson River are winding down after six years and $1.5 billion but some advocates are pushing for another round.
A coalition of environmental groups that unsuccessfully lobbied to prolong the PCB dredging before crews left the river last year are still pressing their case as the Environmental Protection Agency begins a key review of the massive Superfund cleanup.
It's another chapter in a fight that has ebbed and flowed over decades about how to handle PCBs discharged into the river by General Electric. While some advocates say the river won't be truly clean unless dredge crews return, EPA officials focus on the progress made along the river.
READ FULL ARTICLE HERE