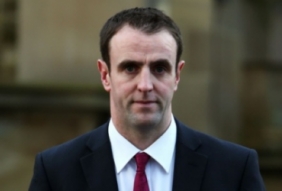 Posted on October 20, 2015
Northern Ireland's Green Party leader has voiced his disappointment at the Environment Minister for failing to stop Lough Neagh sand extraction.
His comments came after South Tyrone Sinn Fein MLA Bronwyn McGahan asked Mark H Durkan how he plans to address "ongoing sand dredging on Lough Neagh" at Stormont.
But, because of the "recently instigated legal challenge in relation to the department's ongoing enforcement case", Minister Durkan said he was limited to what he could say on the matter.
Outlining the actions he has taken, he said during environment question time that a letter was sent to those involved on September 25, 2014 asking them to "cease until this situation has been addressed".
Since that action, he said he also issued an Enforcement Notice on May 27 this year, which "ceased to have effect pending the PAC's determination of the appeal".
"Responsibility for determining the status of enforcement action and whether planning approval should be granted for the sand-dredging activities concerned has passed to the jurisdiction of the PAC [Planning Appeals Commission]," he added.
Ms McGahan further questioned the Minister over concerns sand extraction was impacting on fishermen, saying: "When does the Minister expect the case to conclude?"
His reply: "I could not even hazard a guess as to how long it will take. It is the subject now of a judicial review. Legal action has been brought by a third party who would like stop notices issued, which would, I suppose, satisfy the fishermen to some extent."