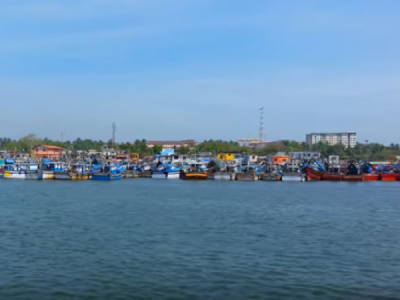 Posted on January 19, 2019
The Port and Fisheries Department has sought environment clearance from the Ministry of Environment and Forests (MoEF) for dredging commercial navigation channel from mouth bar to North Wharf, near the Old Mangalore Port.
In the detailed project report submitted to the MoEF, the department said they need to dredge for a distance 3,800 m at an estimated cost of ?28 crore. This dredging to the depth of 7 m was necessary as it will help in optimal use of wharf proposed at Bengre side of the old port.
The proposed new wharf at Bengre will come up as a cost of ?65 crore under the coastal berth scheme of the Union government's Sagaramala project.
This fair-weather old port, which is close to the central part of the city and connected to the national highway, has a commercial port and also a harbour.
The commercial port of the old port has four wharfs. While the 256-m RCC south wharf and the 64-m RCC salt wharf handles cargo transport, the 500-m north wharf handles mechanised vessels. The 86-m RCC central wharf, which was built in 2017, was recently opened. The 319-m-long RCC wharf of the fishing harbour of the port was handling fishing vessels.
Source: The Hindu