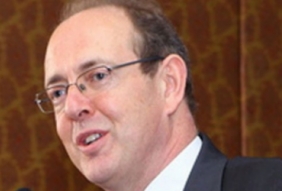 Sir James Bevan
Posted on January 3, 2016
Sir James Bevan, the new chief executive of the Environment Agency, has been Somerset in the southwest of the this week.
The former diplomat, who only took over his new post last month, was recently in Cumbria where he witnessed, at first hand, the flood damage caused by Storm Desmond. He is keen to visit Somerset and learn about the floods of 2013/14 that caused serious disruption across the Levels and Moors.
Sir James started his tour in Bridgwater where he was due to meet local Environment Agency staff before being shown around the Agency's Bradney Depot where vital pumps and other emergency equipment is kept to help tackle flood incidents across the country.
Last week four massive 24in pumps and three smaller pumps were sent up to Cumbria from Bradney to help flood-hit communities in Kendal, Keswick, Cockermouth, Appleby and Carlisle. Eighteen field staff and 3 flood warning duty officers also travelled north to assist with the emergency response.
Sir James was also due be taken to Burrow Mump, a popular local landmark and vantage point, where he will be shown the extent of the Somerset floods and told of the improvements made since 2013/14 to reduce flood risk. These include the dredging of an 8 km stretch of the Rivers Parrett and Tone (£6 million) followed by a £2 million upgrade of pumping stations and platforms.
Sir James will also hear how the Agency has helped local communities increase their flood resilience and is working in partnership with the Somerset Rivers Authority and Local Drainage Board to help deliver further improvements. He will end his visit with a guided tour of Currymoor pumping station.
Commenting on the Cumbrian floods, Sir James said: "Whenever an exceptional event happens it's important to review what happened and how to prepare for the future. With a £60 million fund to help with recovery in Cumbria, in addition to the £2.3 billion government have committed to protect homes from floods across the country, we have the resources necessary to manage flood risk in England. The National Flood Resilience Review and the Cumbria Floods Partnership give Government, the Environment Agency and community groups the forums to review and ensure we are directing our resources to protect people most effectively."
Sir James has set himself the tough task of visiting all 16 of the Environment Agency's areas in his first 100 days of office.