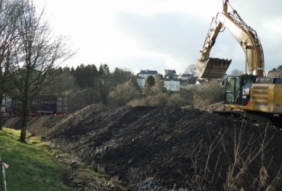 Posted on March 2, 2016
WORK has begun at a third dredging location in the River Kent in Kendal.
Gravel removal from Romney Road, opposite Lound Road garage, began on Tuesday.
The Environment Agency began dredging the River Kent at Mintsfeet Gravel trap on February 11 following a survey into the gravel which showed 'trigger levels' used to assess flood risk had been breached.
The Environment Agency finished work at another location on the River Kent, at Gooseholme/Stramongate Weir, on Friday, from which 7,000 tonnes of gravel was removed.
A spokesperson from the Environment Agency said: "We recommenced work on the February 11 after carefully monitoring the weather forecast and river levels.
"We started gravel removal at both Gooseholme and Mintsfeet Gravel Trap simultaneously to reduce the environmental impact and prolonged disturbance to the river.
"Wagons started removing the gravel from Stramongate Weir on Friday, February 12, and this continued, with Saturday working, until Friday, February 19. We have removed approximately 7,000 tonnes from this location."
Wendy Comert, of Whitestiles, Kendal, whose home was badly flooded in the December floods, said: "They definitely needed to do it. Dredging there will make the water channel better into the main body of the river.
"It would be better if they planted trees there to soak up the water. This is the place the water seems to go."
The Environment Agency spokesperson added: "Gravel removal is just one of a number of tools that can be used by the Environment Agency and landowners to manage flood risk.
"Other solutions could include providing better flood storage upstream, slowing down the flow of water using land management techniques or building traditional hard defences such as flood walls."
Earlier this year, large piles of silt and rubble were carried away by the River Kent during heavy rain after the Environment Agency had already carried out days of dredging work.