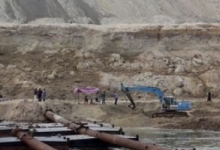 Posted on June 18, 2015
By Ahmed Aboulenein, euronews
Egypt's New Suez Canal will open on Aug. 6, its overseer said on Saturday, a project President Abdel Fattah al-Sisi sees as a potent symbol of national pride and a major chance to stimulate an economy suffering double-digit unemployment.
The army began work 10 months ago on the $8 billion canal, flanking the existing, historic 145-year-old waterway and part of a larger undertaking to expand trade along the fastest shipping route between Europe and Asia.
The Suez Canal is a vital source of hard currency for Egypt, particularly since the 2011 uprising that scared off tourists and foreign investment.
READ FULL ARTICLE HERE