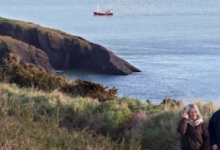 Posted on June 8, 2015
By Ray Ryan, Recruit Ireland.com
A €6m dredging project has been announced for Dunmore East Fishery Harbour Centre in Co Waterford.
The contract to complete the works was awarded to L&M Keating Ltd, following a tendering process. It is anticipated the long-sought works will be substantially completed by the end of September.
Marine Minister Simon Coveney, who announced the project, said the Fishery Harbour Centre is an important piece of infrastructure which is the bedrock of the local community. It is integral to the Government's policy to further develop the fishing industry, the wider seafood sector and other ancillary and marine leisure industries, he said.
READ FULL ARTICLE HERE