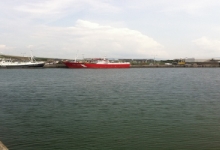 Posted on July 29, 2015
The Department of the Marine has allocated €1.5million for dredging works and the removal of a slipway in Dingle Harbour.
In welcoming the funding, Deputy Brendan Griffin said the money comes on top of the €500,000 already allocated for major development works in Dingle Harbour earlier this year.
West Kerry councillor, Seamus Cosaí Fitzgerald said that the dredging of the harbour was badly needed and would help to safeguard employment locally.
The funding was provided as part of a capital programme of works announced by Minister Simon Coveney.