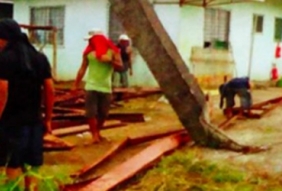 Posted on November 10, 2015
A team of Dutch water specialists from companies including Royal HaskoningDHV and Van Oord is to assist the Philippines with a plan to safeguard the coast around Tacloban from typhoons.
In 2013, the country was hit severely by the destructive typhoon Haiyan, resulting in thousands of casualties and vast material damage.
Foreign trade and development cooperation minister Lilianne Ploumen said: "Each hurricane in the Philippines causes casualties and every time the survivors need to start all over again. That is unnecessary. Dutch companies, knowledge institutes and government authorities know how to protect countries from future floods. They will be using this unique know-how and expertise in the Philippines."
The team of Dutch experts is a division of the Dutch Risk Reduction Team (DRR Team), an government initiative to deploy Dutch experts from the private sector, NGOs and government authorities to prevent or combat flood disasters. Foreign governments may request assistance from the DRR Team, which focuses on reconstruction and prevention rather than emergency relief. The efforts of the DRR Team in Tacloban tie in with the emergency relief the Netherlands provided in 2013 following the disaster.
The consortium that will be carrying out the Philippines assignment on behalf of the DRR Team will be composed of experts from Royal HaskoningDHV, Arcadis, the Red Cross, Deltares, Van Oord, Rebel and Wetlands International. Together with local, regional and national organisations they will be working on a sustainable vision for the Tacloban coastline. The €600,000 (£425,000) project will be funded by the Dutch Ministries of Foreign Affairs and Infrastructure & the Environment. It is scheduled to be completed by mid-2016.
Infrastructure and the environment ministers Melanie Schultz van Haegen said: "The impact of typhoon Haiyan was disastrous. I hope that the coastal protection plan of the Dutch Risk Reduction Team will provide a structural solution for the better protection of the inhabitants, making them more resilient and preventing another disaster."