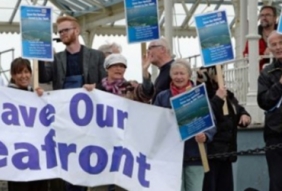 Posted on October 21, 2015
By Tim O'Brien, The Irish Times
Dún Laoghaire Harbour Company's plans to create a 390m cruise berth and ancillary dredging are an "unquantified financial gamble", a Bord Pleanála hearing into the plans has been told.
People Before Profit TD Richard Boyd Barrett said the harbour company proposals – to dredge a 1.5km harbour approach channel, a 500m turning circle to the north of the harbour mouth and an in-harbour access channel of 850m to the proposed berth – were costed at €18 million.
But he said that figure was less than the 1996 cost of building the smaller berth for the Stena HSS which is to be demolished as part of the scheme.
READ FULL ARTICLE HERE