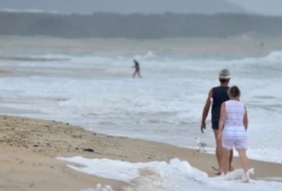 Posted on February 15, 2016
MORE than 20,000 cubic metres of sand will be pumped onto Maroochydore Beach from Monday in an effort to rejuvenate the eroded coast line.
Sunshine Coast Council executive director Infrastructure Services, Andrew Ryan, said dredging works would be finished by March 4, weather permitting.
"The key purpose of the dredging is to create and maintain an erosion buffer to protect a number of significant assets immediately next to Maroochydore Beach from storm erosion and allow the shoreline to respond to natural erosion events," he said.
"We've also got the Australian Surf Life Saving Championships in April 2016, which represents a significant economic opportunity to the local economy, so an added bonus of the nourishment program is getting the beach in the best state for this great event.
"Local residents and the many visitors to the area may have noticed pipelines and dredging machinery mobilised along Maroochydore Beach, Cotton Tree sand spit and the boat ramp at Norjoor Rd in preparation for works to start next week.
"Council has ensured that all works are in accordance with both Federal and State Government environmental permits which includes the requirement to close to the public the sand spit at Mudjimba North Shore to minimise disturbance to shorebirds for the short duration of these works.
"A pathway with high visibility fencing will supplement this temporary closure and we will increase patrols to encourage the public to stay on the designated path."