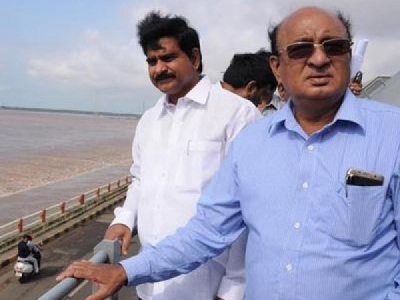 Devineni Umamaheswara Rao
Posted on September 27, 2016
Dredging works are going to be taken up with a cost of Rs 16 crore at Pichuka Lanka, said Minister for Irrigation, Devineni Umamaheswara Rao, here on Saturday. He along with local MLA Gorantla Butchaiah Chowdary visited Pichuka Lanka on Saturday.
Speaking on the occasion, Devineni said that capacity of Sir Arthur Cotton barrage reservoir decreased drastically due to the accumulation of sand in upper reaches of Dowleswaram and said tenders have been finalised for dredging works and modern machinery will used for the same.
He informed that the Chief Minister would inaugurate dredging works very soon and explained that dredging works are going to be taken up in order to enhance reservoir capacity to release water to downstream, to develop Akhanda Godavari project and provide water to industries.
Devineni directed the officials to take steps to maintain transparency and to place flexies to make sure that people know about ongoing works and recalled that foundation stone for development of Pichuka Lanka was laid way back in 1988 and works are going to commence after 28 years.
Earlier, the Minister inspected the flow of Godavari from Sir Arthur Cotton Barrage and said that 2,100 tmcft of water has already been released into the sea this year. He informed that 9- tmcft of water has been utilised for agricultural purposes in twin Godavari districts and only 21 tmc ft has been diverted to Krishna delta through Pattiseema project.
With the diversion of Godavari waters in Krishna delta, the farmers of Denduluru constituency are getting ready for the second crop and farmers in Krishna, Guntur and Prakasam districts were able to start cultivation in time in 10.30 lakh acres.
Stating that 30 tmcft of water has been stored in Pulichintala, he reiterated that Godavari, Krishna and Penna rivers would be interlinked. The Irrigation Minister said that the Chief Minister is going to review Polavaram project works as well as visit the site every Monday.
He maintained that lift would be set up for Polavaram left main canal at Purushothapatnam and would be linked to Yeleru reservoir in order to irrigate one lakh acres and to provide water to Visakhapatnam. Stating that water has been released to one lakh acres by completing Sardar Gouthu Lachchanna Thotapalli project, he informed that the Phase-1 and Phase-2 of Vamsadhara project would be completed by 2017.
Later, MLA Gorantla Butchaiah Chowdary said that Pichuka Lanka will be developed as international tourism centre and said that the State government has sanctioned Rs 50 crore under Akhanda Godavari project. He observed that the reservoir has come down 0.75 due to sand accumulation.
Source: News Dog