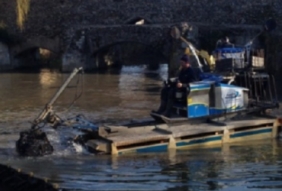 Posted on April 7, 2016
An eye-catching dredger was in the River Lark at the Abbey Gardens last week as part of work to remove a mud bank.
The bank has built up over the last 20 years and was obscuring views of the Abbots Bridge.
A St Edmundsbury Borough Council spokesman said the main dredging work is done and there will be some tidying up in the next few weeks.
READ FULL ARTICLE HERE