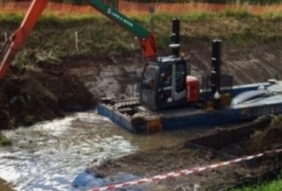 Posted on October 28, 2015
A new stretch of the River Parrett will be dredged in the New Year, Somerset's flood protection body has said.
The move follows a decision by Somerset Rivers Authority (SRA) to spend £2.1m to dredge a 750m stretch between Northmoor and the M5 near Taunton.
Chairman John Osman said: "This area we've chosen to dredge is quite a difficult area to get to, so we realise it is expensive."
Last year 8km of the rivers Parrett and Tone were dredged at a cost of £6m.
'Complete confidence'
Mr Osman, who is also the Conservative leader of Somerset County Council, said: "We're already going to be going for cheaper options – whether that be an in-house option or different forms of dredging.
"I wanted to make the decision to get on with dredging, so the public would have complete confidence in the work we are doing."
The authority has said the work will cut peak water levels in Northmoor by up to 80mm.
The SRA is also set to award a contract for maintenance work on part of the 8km stretch of the Rivers Parrett and Tone which was dredged last year.
The Flooding on the Levels Action Group has welcomed the decision.