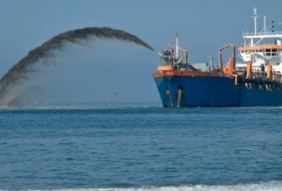 Posted on September 30, 2015
Acting on the representation of the fishing hamlets that sought desilting of the estuary at the harbour, Puducherry Agriculture and Port Minister M Chandrakasu on Saturday inaugurated the dredging works here, entrusted to a private party for a cost of Rs 2.15 crore.
The National institute of Ocean Technology (NIOT) has been entrusted with the responsibility of measuring the sand dredged.
Fishing remains affected here for several months because of the accumulation of sand in the estuary as fishing vessels find it difficult to come out from Thengaithittu Fishing harbour through the estuary starting at Vambakeerappalayam and are forced to wait for high tides. Even the boats of Coast Guard faced similar problems.
Dredging will be beneficial for restoration of the sandy beach, which in turn would prevent the scouring and sliding of sea wall, besides preventing sea water intrusion and safeguarding the town from the vagaries of natural calamities. In addition, it would promote Tourism.
Also, dredging of the harbour and discharging sand on the coast will deepen the mouth of the harbour to facilitate movement of boats besides nourishing the beach, though in a limited manner. But sustainable measures for beach nourishment remains a far cry here.
The private agency Dynamic Engineer Limited, selected through e-tender will use the dredger of the Port Department by bringing its own cutter motor fitting and dredge 1 lakh cubic metres of sand. It has been mandated to complete the work in six months' time. The agency will be paid at the rate of Rs 214.80 per cubic metres of sand dredged.
The Port department has also sent a proposal to the government for dredging another 3 lakh cubic metres of sand at a cost of Rs 14 crore.
The dredging of around 4 lakh cubic metres of sand annually from the harbour mouth and depositing it on the northern side of the harbour, recommended by the CPWRS, Pune, for maintenance of the depth of harbour, has not materialised. This has led to silting of the channel leading to the harbour's mouth.
There has been on and off dredging and last year 1.4 lakh cubic metres of sand was dredged, but now the mouth is again silted.
The Port Department is unable to sustain dredging activity due to the high expenses involved. Currently, less than Rs 1 lakh is earned per month. The port activities stopped after the government signed a concession agreement with a private developer in 2006, but that did not take off.
Now the department has initiated efforts to revive export of products like Cement, Sugar and import of Pamolein and timber through the port as in the past. Besides, the port is also wooing industries to use it as container terminal.