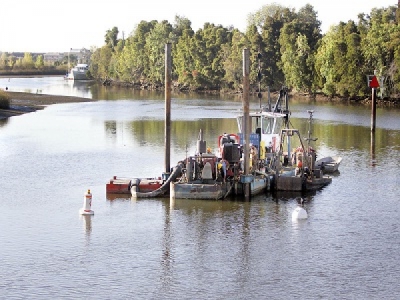 Posted on October 3, 2016
By Howard Yune, Napa Valley Register
Dredging is underway for a 13-mile stretch of the Napa River, as well as a heavily silted boat launch the city hopes to revive.
A federal project to scoop sediment from the county's central waterway began Sept. 12, the same day the city started clearing around a boat ramp at Kennedy Park. Environmental permits will allow waterway clearance to last into November, and dredging at the park should be complete by the middle of October, city public works officials said this week.
The Napa River clearance is the first to be conducted by the U.S. Army Corps of Engineers since 1998, and will create a boating channel with a low-tide depth of at least 9 feet from Third Street in downtown Napa to Asylum Slough near Highway 37 in Vallejo. Workers are not excavating the entire 13-mile length of the dredging area, but are concentrating on shoaled sections that pose the most danger to watercraft.
River dredging began at the Jack's Bend turning area, but was suspended Saturday due to water turbidity issues where an exhaust pipe deposited silt off Imola Avenue, according to Pamela Patton, project manager for the Corps' San Francisco district.
The Imola location is one of two drop-off sites for an estimated 300,000 cubic yards of riverbed spoils, along with a location on the former Napa Pipe property to the south.
Excavation is expected to resume later this week and gradually continue south until crews reach Vallejo, in a navigation channel that spans 75 feet north of the Butler Bridge and 100 feet in its southern section.
Dredging is expected to last one to two days in each successive work area from north to south, and equipment noises will reach 90 decibels with occasional spikes to 100 dB, a Corps engineer told residents in August. Work is scheduled seven days a week from 7 a.m. to 11 p.m. north of Tulocay Creek, and 24 hours a day for points south.
Meanwhile, sediment removal at the Kennedy Park boat entry is on track for completion around Oct. 15, according to John Ferons, senior civil engineer for the city Public Works department. About 5,500 cubic yards of silt is being taken to an open-water disposal site in the Carquinez Strait, west of the namesake bridge that carries Interstate 80 between Solano and Contra Costa counties.
The project also includes putting a boat slip by the ramp back into service after dredging is complete, though Ferons said the city has not decided whether to repair the existing dock or replace it.
Both the Corps and Napa face Nov. 30 deadlines for their dredging projects due to federal and state environmental laws to protect salmon, smelt and other fish species.
The $4.5 million federal river dredging project is meant to correct safety problems in the Napa waterway, where an increase in shallow spots has bedeviled even smaller-draft vessels and led to the Napa Valley Yacht Club canceling its Christmas-season Lighted Boat Parade last December.
Napa is using $200,000 it originally earmarked for its own river clearance efforts to dredge its Kennedy Park launch, where silting has seriously crimped its use at low tide. Because the boating ramp is outside the river's federal navigation waterway, it is not eligible for Corps maintenance.
Source: Napa Valley Register