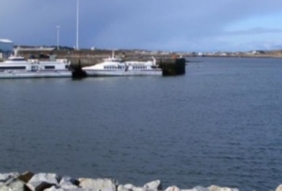 Ros a? Mhíl Harbour
Posted on February 8, 2016
The Environmental Protection Agency has paved the way for work to start on the construction of a new multi-million euro harbour for small craft at Ros a' Mhíl.
Extensive dredging work is set to take place this year to allow for the new 92-berth harbour and the deepening of the marina area.
The EPA has granted a 'Dumping at Sea' licence for the dredging work – which must be carried out by next December – and the disposal of 94,000 tonnes of dredged material at a dump site 2.6 km south of Cashla Point.
The Department of Agriculture, Food and the Marine confirmed to the Connacht Tribune that the dumping licence will allow it to 'prepare the groundwork' for the west Galway harbour's expansion.
The Minister has allocated €1.8m under the 2016 Fishery Harbour and Coastal Infrastructure Capital Programme for the purposes of a dredging project in Ros a' Mhíl to prepare for an eventual extension of the small craft harbour.