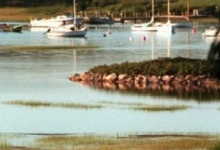 Posted on August 3, 2015
By Kerri Kelleher, Cape Cod Times
After more than a year of delays, the U.S. Army Corps of Engineers is moving forward with a plan to dredge Menemsha Creek.
The announcement came after the Corps awarded the Menemsha Creek Federal Navigation Project a $2.1 million contract in late June, Corps of Engineers spokesman Tim Dugan said.
The funding for the maintenance project, which will dredge the creek channel at the entrance into Menemsha Pond, came from a $50 billion relief bill for areas damaged by Hurricane Sandy. The project was stalled because of environmental permits, but work is now slated to begin Oct. 1, Dugan said. The project is expected to take between 10 and 12 months.
READ FULL ARTICLE HERE