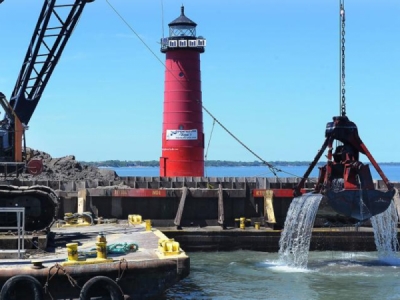 KENOSHA NEWS FILE PHOTO BY BILL SIEL/
Posted on April 18, 2019
Dredging is expected to begin next month at the mouth of the Kenosha Harbor.
The $572,700 contract was awarded to New Berlin-based Michels Corp.
It includes a base payment of $498,000 plus an additional $74,700 in contingency for unforeseen conditions.
The project was estimated at $1 million due to skyrocketing local construction costs, according to Ald. Mitchell Pedersen.
"It's been very tough for us to budget anything with Foxconn driving up the price of concrete and asphalt," said Pedersen, chairman of the Public Works Committee. "We were pleasantly surprised it came in around half of what we figured."
The roughly two-month project is expected to start on May 13.
Ongoing problem
It will be the fifth time in the past 11 years the harbor will undergo dredging, a process where silt and sediment are dug out of the harbor channel and transported to a designated location.
The harbor must maintain a minimum 18-foot depth as a harbor of safe refuge. Strong storms and powerful currents frequently move sand toward the Kenosha shoreline and past the North Pier Lighthouse. That silt and sediment find their way into the harbor, where they build up and eventually make the channel impassable for large vessels.
Dredging projects previously took place in 2009, 2012, 2014 and 2016.
This year's project will remove about 14,000 cubic yards of sediment. It will be deposited back into Lake Michigan near the new Southport Park revetment from 68th Place to 75th Street. The disposal process was recommended and approved by the Department of Natural Resources.
The project is necessary to host the Aug. 1-4 Tall Ships Challenge. Brigantines, schooners and other tall ships require deep water due to their enormous size and extended keels.
The channel is believed to be about 10 feet deep. Prior to the 2016 dredging, there were reports of boats hitting the bottom of the channel with depths as shallow as 7 feet.
Long-term solution
Madison-based SmithGroup, an architectural, engineering and planning firm, was hired to offer a plan to prevent or at least limit future dredging.
The city recently approved a $3.65 million proposal to extend the north pier to the center of the existing break wall in an attempt to stop sediment from building up at the mouth of the harbor.
"Hopefully, we won't have to do another dredging for 20 to 30 years," Pedersen said.
The 700-foot rock wall, likely made out of granite or quartz, is expected to last 50 years.
The project needs approval from the full City Council, U.S. Army Corps of Engineers and the Department of Natural Resources. It would take an estimated six months to one year to obtain permits from all federal and state regulatory agencies before entering the construction phase.
Source: kenoshanews.com