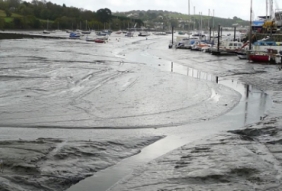 Posted on February 8, 2016
By Peter Johnstone, thePacket
An ambitious new project to dredge the Penryn river could see a new commuter ferry service running between Truro, Falmouth and Penryn.
On Monday night Penryn Town Council heard of a vision to regenerate the town's waterfront, along with the waterfront in Truro, by dredging channels in the two rivers to allow a fast catamaran ferry to provide a quick, green alternative to car travel.
David Pollard is the man with the plan, called the Jigsaw Project, who told councillors that the project would "open up Penryn's front door" along the riverside by dredging a narrow, two metre deep channel to Exchequer Quay, encouraging tourism, commuters and recreational water users.
READ FULL ARTICLE HERE