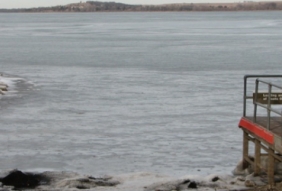 Waurika Lake
Posted on February 8, 2016
Waurika Lake Master Conservancy District Director Dave Taylor received some good news at the District's regular monthly meeting Tuesday. Progress on dredging, gate replacement and a pipeline extension project at Waurika Lake is on time and on budget.
In the last 30 days, silt removal dredging has progressed 2,000 linear feet into the lake and is expected to be completed at the end of this month. All inlet structure gates are on-site, diffusers are installed and the transition piece for the extension part of the project is being installed.
"The time for the project to be finished is one to one-and-a half months ahead of schedule and the money is looking good," said project engineer Dan Keithline.
"We are more than half way there," Taylor said.
The last part of the project will be the gate replacement, members were told.
The weather could be a future holdup as strong winds are causing a turbidity in the water which could delay the silt removal water being returned to the lake. Erosion control due from recent rains and wind is requiring daily and weekly silt fence checkups.
Taylor also reported on the control system update which involved a shutdown of the ESV pneumatic switchover which is similar to a large breaker box, according to Taylor. This has resulted in Duncan needing to switch over to Lake Humpreys for their water usage.