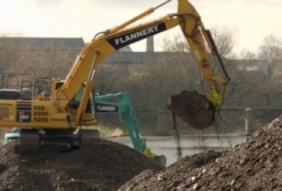 Posted on February 15, 2016
The Environment Agency has begun dredging the River Kent in Kendal again after more storms at the end of January washed up to 100 tonnes of gravel back downstream.
It's emergency work that wouldn't normally happen in the winter and is designed to protect properties from flooding in the town, where around 3,000 homes and businesses were flooded in December.
We are doing it broadly the same as last time – there are some subtle differences – but I think actually if we were to move the material onto the park we'd be likely to cause quite a lot of damage to the park, which obviously is an important area for the town and for the residents here, so we're trying to do it in such a way that causes least impact on the town.
– ANDY BROWN, Environment Agency
But some people in the town have been calling on the Environment Agency to dredge the River Kent for years and they're angry it wasn't done before the storms of December.
The dredging work's a little bit too little too late. It was done two years ago and we commented at the time that it should be taken down four feet more but they only took the surface off, simply because the EU directive has been signed up to to not dredge rivers, consequently if you have a bucket full of water and it takes two gallon and you put sand in the bottom you have less capacity for water.
– GEORGE BELL, Flooded in Kendal in December
All the main rivers across the county in Cumbria we do a river level survey on and we've set trigger levels that are based on sophisticated modelling that tell us that once they reach that trigger level there's too much gravel in there that we can tolerate for flood risk for people and their homes and we'll come in and remove that gravel, and that's what we do do on a routine basis. The last time we surveyed the river Kent here in Kendal was earlier in the year in 2015 and at that time we hadn't reached the trigger so there was no need to remove that material.
– GEORGE BELL, Flooded in Kendal in December
If the weather's kind, the work should be finished next week, the diggers then move to other parts of the river.
The Environment Agency's also working on a £25million flood defence scheme for the area.