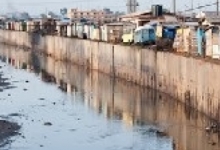 Posted on June 11, 2015
The Odaw river that runs through the Kwame Nkrumah Circle in Accra is being dredged after the devastating floods in Accra on Wednesday June 3, 2015, Joy FM reports.
The river, choked with garbage and remains from the recent flood, is being cleared in response to an order from the Mayor of Accra, Dr Alfred Nii Oko Vandapuie.
This main river that carries liquid wastes from households and industries in the area, is noted for causing flood whenever there is a heavy downpour due to poor sanitary conditions in and around it.
This move comes as one of the measures to prevent recurrent flood in the municipality, like last Wednesday's disaster.
The public is encouraged to support flood victims with donations of foodstuffs, clothing, bedding facilities and other forms.