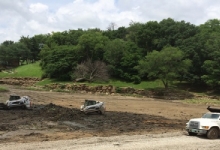 Posted on June 19, 2015
By Nadia Thacker
Rainfall has not delayed crews from continuing work on the Krug Park lagoon.
"The rain doesn't affect the dredging operations as one might think," said Jeff Atkins, City of St. Joseph Parks Dept. Superintendent. "With the clay bottom that's in the lagoon that was installed back in the late 70s it's actually a very stable surface."
City equipment has not had any issues getting into the lagoon to remove the muck, however getting rid of the muck has been another issue.
READ FULL ARTICLE HERE