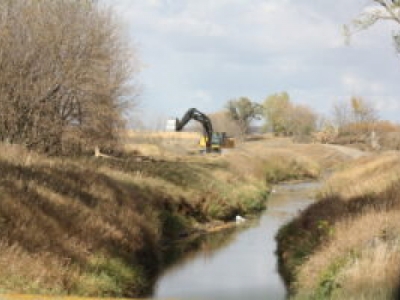 Workers with Double "D" Gravel removed trees from within the county ditch right of way near the campground and city tree dump in October. Pipestone County recently hired the company to dredge the ditch as well. File photo
Posted on November 10, 2020
Pipestone County Commissioners during their Oct. 27 meeting hired Double "D" Gravel to dredge the county ditch from near the bridge on North Hiawatha Avenue to the area near the bridge on Ninth Street NE in Pipestone for a cost of $20,970.
The county received two quotes for the work. The other was for $25,000. The cost will be paid for out of the ditch fund.
Pipestone County Administrator Steve Ewing said the ditch committee had already unanimously supported the hiring of Double "D" Gravel. The work was expected to begin Nov. 9.
According to the quote from Double "D" Gravel, the company will use a long reach excavator to clean sediment from the bottom of the ditch from 50 feet south of the Ninth Street bridge to west of the Hiawatha bridge. The sediment will be piled alongside the ditch and flattened when it's dry enough, except in the area between the bridge on Hiawatha Avenue and the fence along the National Monument land. The sediment removed from that area will be hauled away to keep the ditch clear.
Double "D" Gravel recently removed trees within the county ditch right of way from Ninth Street NE to North Hiawatha Avenue to make way for dredging of the ditch. The county board approved during its Sept. 22 meeting hiring the company for that work for an estimated cost of $24,460 with the county paying for half of the cost out of reserves and the ditch committee paying the other half.
The city of Pipestone also removed some trees on land it owns along the ditch earlier this year. Ewing said there were a few trees that still had to be removed from city property.
Pipestone County is the ditch authority and the commissioners committed to dredging the ditch last fall after residents of the northeast part of Pipestone asked the city and county to address flooding in that part of town.
The county has also solicited bids for engineering work related to potential flood control measures on the county ditch where it runs through the city of Pipestone. The county received four proposals for that work ranging in price from $30,000 to $83,500 in October. County commissioners referred the proposals to a task force comprised of city and county representatives, community members, ditch committee members and others that was formed last year to address concerns about flooding of the ditch.
That group is scheduled to meet Nov. 18 to review the proposals and come up with a recommendation on how to proceed that will be brought to the county board for consideration.
Source: pipestonestar