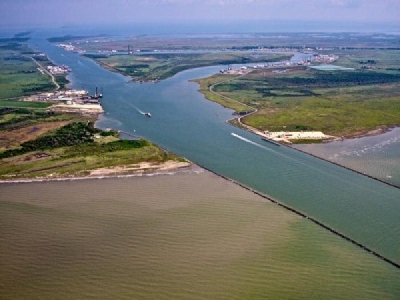 Posted on September 29, 2016
Dredging was the main issue addressed at the Port of Lake Charles board meeting on Wednesday.
Port board members approved a revision to the port's tariff — a set of regulations governing its daily activities — that will now require incoming vessels to report their lowest draft, which is a measurement in feet for how deep the vessel sits in the water.
Vessels who are dropping off cargo will report their expected incoming draft, since they will sit lowest in the water while full of supplies. Vessels who are picking up cargo will in turn report their expected outgoing draft.
Rase said this will ensure the port knows what draft to expect, and whether the port is sufficiently dredged to accommodate the ship. Although vessels did report their draft in the past, the new requirement will ensure the port has this information "earlier" and in a "declarative" format, instead of an informal one, Rase said.
The approved tariff change also requires a ship's agent to report a "statement of facts" at the end of port use. Rase said this will provide the port with a definitive record of events for insurance or other purposes down the road.
Board member Barbara McManus asked Rase if he expected to have trouble getting ships to report this information. Rase responded that it's common for ports to require a statement of facts, and that he saw no reason to expect a compliance issue.
President Daryl Burckel asked whether this was a daily report. Rase responded that, although the report would outline a daily account of activities, it would be reported — not daily — but at the end of port use by the ship's agent.
Rase said the tariff change was a response to "problems we're having with dredging and keeping things dredged." He attributed this to regular environmental factors — such as being in a slow moving river, having a mud bottom instead of a gravel one and experiencing heavy rains. He said BT-1 usually allows ships 40 feet of clearance — a 40-foot draft — but that right now it only has a 38-foot draft capability and needs to be dredged.
To address this, board members approved a motion to accept a proposal and contract, which would cost up to $700,000, from a chosen bidder for maintenance dredging at BT-1, the berth that Rase called the "heart of our cash flow." He said the area to be dredged is within the port's jurisdiction, not the Army Corps of Engineers. He said that other regional areas are having to dredge right now as well.
"We've got to make sure that we're dredged properly so that we don't affect any of the carriage on the ships," Rase said. He said the port has had three basic bids so far, the highest being $700,000. He said the port would work with bidders to get the best deal it can, but that it needs to get the bid chosen and the project going as quickly as possible.
"We need to make sure we get it done before the winter months really set in and take a toll on us," he said. The port is not required to go through a formal bid process for maintenance dredging, since dredging is not considered construction or alteration of a public work.
Source: AmericanPress.com