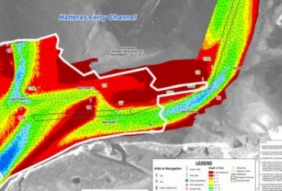 Posted on November 23, 2015
By Catherine Kozak, The Outer Banks Voice
Dredging will start this week in a shoaled section of channel in Hatteras Inlet, a project that will provide much-needed relief to ferry and private vessel traffic to and from the Atlantic.
Working off a recently completed survey, the state Ferry Division will use the state dredge Carolina to clear about 700-800 feet between the inlet gorge and Sloop Channel, a section that currently has as little as 3.5 feet of water.
Early on, a pilot channel will be carved to allow quicker access for local vessels.
"We're going to get a little area cut out for you guys to start using," Ferry Division Deputy Director Jed Dixon said at Tuesday's meeting of the Dare County Oregon Inlet and Waterways Commission.
READ FULL ARTICLE HERE