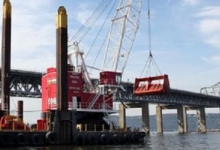 Posted on July 29, 2015
By Khurram Saeed, The Journal News
Dredging of the Hudson River for the new Tappan Zee Bridge will resume next month near Westchester.
Bridge builder Tappan Zee Constructors will remove nearly 200,000 cubic yards of sand and silt south of the existing bridge to create a flotation channel for the largest crane on the bridge replacement project beginning on or about Aug. 6.
Starting in 2017, the existing bridge will be dismantled, said Brian Conybeare, Gov. Andrew Cuomo's adviser on the $3.9 billion project.
READ FULL ARTICLE HERE