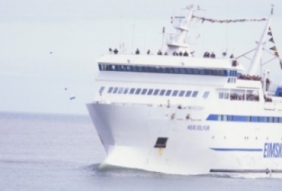 Posted on September 28, 2015
By Alëx Elliott, Iceland Review
When a large Luxembourg-registered dredger arrived in South Iceland last week, hopes were raised on the Westman Islands—but it has since run into difficulties which are hampering its work.
The Taccola is 90 meters long and is run by a Belgian/Luxembourg company which specializes in tactical dredging around the world, including a recent million-ton project on the Suez Canal.
The plan in Iceland was for the Taccola to remove around 300,000 tons of sand from Landeyjahöfn harbor and hopefully keep it open to the Westman Islands ferry all year round.
Over the last week, however, the Taccola has repeatedly needed to wait offshore due to waves being too high and Vísir reports the vessel cannot cope with waves much bigger than the smaller dredgers previously used at Landeyjahöfn.
READ FULL ARTICLE HERE