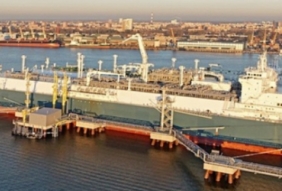 Posted on October 12, 2015
BW's FSRU, which has arrived in Egypt, for a five-year charter, will start operations late as the berth at Sokhna Port where it is due to be moored still has a fortnight's worth of dredging work to be completed.
Egyptian Natural Gas Holding Company (EGAS) took the FSRU on charter as the nation fights a severe energy shortage by importing LNG. It is the second FSRU EGAS has taken following a contract last year with Hoegh LNG.
Once operating the BW ship will receive about 700m cu ft of gas per day to pump into the national network.