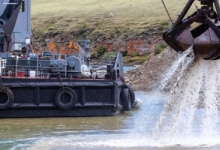 Posted on August 25, 2015
Government's 5 per cent stake sale in Dredging Corporation of India (DCI) got over-subscribed today on strong demand from retail investors, fetching Rs 53 crore to the exchequer.
With the third disinvestment of the current fiscal, the government has netted over Rs 3,300 crore though minority stake sale in PS ..
The issue generated bids worth Rs 142 crore as investors bid for 37.17 lakh shares against 14 lakh shares on offer. The OFS got subscribed 2.66 times, as per NSE data.
Taking forward its successful disinvestment drive, the government will sell 10 per cent stake in the nation's largest oil firm IOCBSE -2.45 % to raise about Rs 9,500 crore on Monday.
"I am hopeful we will get a very good issue on Monday. I do think we will be able to sell the excellent IOC stock well," Disinvestment Secretary Aradhana Johri said.
In the Dredging Corp OFS today, the portion reserved for retail category was over-subscribed 11.65 times, with bids worth Rs 63 crore. The portion for institutional investors was also subscribed 1.66 times, with bids worth Rs 79 crore.
The government today sold 5 per cent stake in the shipping PSU through an Offer for Sale (OFS) at a floor price of Rs 382 per piece.
At this price, the stake sale would fetch the government around Rs 53 crore.
Shares of Dredging Corp today closed 1.63 per cent down at Rs 381 apiece on the BSE.
"Bids worth Rs 142 crore have come in the Dredging Corp OFS. Retail investors are certainly coming up very well in disinvestment," Johri told reporters here.
The government held 78.56 per cent stake in Dredging Corp at the end of June quarter.
A 10 per cent of the issue size is reserved for retail investors, while 25 per cent has been reserved for mutual funds and insurance companies.
Johri said the government has garnered Rs 3,300 crore so far in the current fiscal through stake sale in three PSUs. The government had earlier sold 5 per cent stake each in PFC and REC.
The government is targeting to raise Rs 69,500 crore from disinvestment in the current fiscal.
The Visakhapatnam-headquartered DCI ensures continuous availability of the desired depths in shipping channels of the major and minor ports, navy, fishing harbours and other maritime organisations.
As regards future disinvestments, Johri said: "We have a robust pipeline of a lot of stocks. We study the markets as regards valuation, appetite and then go ahead".
She said the disinvestment department will start roadshows in September and keep the pipeline ready.
"India is an outlier among emerging markets. Investors hold that opinion and Indian markets have been reasonably well performing," Johri said.