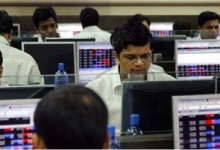 Posted on August 24, 2015
Government today fixed Rs 382 apiece as the floor price for 5 per cent stake sale in Dredging Corporation of India (DCI) on Friday, a move that is likely to fetch it Rs 54 crore.
"Government of India the promoter of Dredging Corporation of India Ltd has informed the floor price for the offer in terms of the SEBI OFS circulars shall be Rs 382 per equity share… ," the company said in a regulatory filing.
Shares of Dredging Corporation of India today closed at Rs 387.30 per unit, down 4.75 per cent on BSE. Thus, at today's closing price the government could raise about Rs 53.48 crore from the stake dilution.
The government will sell up to 14 lakh shares of face value of Rs 10 each, representing 5 per cent of the total paid up equity share capital of the company, through Offer for Sale on Friday.
The allocation shall be at or above the floor price and "a minimum of 10 per cent of the size of the offer shall be reserved for retail investors subject to the receipt of valid
bids. The stock exchanges will decide the quantity of shares eligible to be considered in the retail category, based on the floor price."
It added that no single bidder other than mutual funds and insurance companies shall be allocated more than 25 per cent of the offer shares.
Headquartered at Visakhapatnam, DCI helps ensure the continuous availability of the desired depths in shipping channels of the major and minor ports, navy, fishing harbours and other maritime organisations.
The government is targeting to raise Rs 69,500 crore from disinvestment in the current fiscal. So far, due to volatile market conditions, it has been able to sell stakes only in two PSUs raising over Rs 3,000 crore.