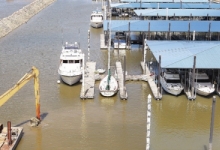 Posted on August 24, 2015
By Linda N. Weller, The Telegraph
For the past three weeks, a giant excavator has been scooping mud and other gooey debris from underneath murky brown Mississippi River waters at Alton Marina, then dumping the sludge on a barge.
From there, the crew from River Life and Co. Inc. of Portage des Sioux, Mo., pulls up two large, vertical metal steadying posts they sink into the mud during the dredging action. The workers then maneuver tugboat Nellie B to move the mud-laden barge and excavator out of the marina area.
The tugboat and barge travel across the river to Missouri, near Riverlands Migratory Bird Sanctuary, then scoops out the large metal rectangle containing the sludge. Once the hopper is empty, the vessels return to the marina to dredge up more mud.
READ FULL ARTICLE HERE