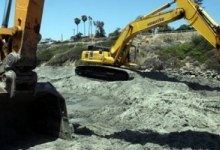 Posted on June 8, 2015
By Edward Sifuentes, The San Diego Union-Tribune
Huge earth-moving vehicles began removing sand Thursday from the nearly clogged mouth of the San Elijo Lagoon as part of a week-long, annual ritual that aims to keep the lagoon's water healthy for wildlife.
"The lagoon's inlet and channel appears open but is approximately 80 percent blocked," said Doug Gibson, executive director and principal scientist for the San Elijo Lagoon Conservancy.
Tidal circulation is vital to the lagoon and the species that live in it, officials said. Without it, the water would become stagnant and overgrown with algea.
READ FULL ARTICLE HERE