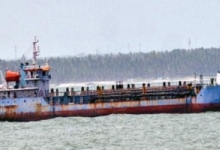 Posted on June 29, 2015
By The Hindu
A dredger caught in a legal wrangle and lying anchored three nautical miles off the Kollam port has started sinking. Four crew members on board were on Tuesday rescued by a team from the Neendakara Coastal police station on a directive from the Indian Coast Guard and handed over to Kollam Port authorities.
The four on board were natives of Uttarakhand and Jharkhand. They said the hull developed a crack and water began seeping in, following which the Coast Guard was informed.
After verifying the documents of the four, they were accommodated in a quarters of the Ports Department. The owners were also informed.
READ FULL ARTICLE HERE