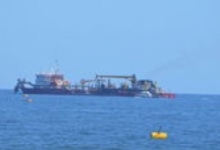 Posted on July 25, 2015
By Claire Lowe, Shore News Today
Beach replenishment in Ocean City's south end will resume in about two weeks, a spokesman for the Army Corps of Engineers said Monday, July 6.
"Yes, the contractor (Great Lakes Dredge & Dock Co.) currently estimates that the dredge, Liberty Island, will be back on the job July 20," said spokesman Ed Voigt of the Philadelphia District.
The southend beach fill, formally called the Great Egg Harbor Inlet to Townsends Inlet project, was halted in late May after problems with the dredge's engine. The Liberty Island, a hopper dredge owned by Great Lakes Dredge & Dock Co. of Illinois, was sent to Norfolk, Va. for engine replacement. The Army Corps, which oversees the federally-funded project, said it would take six to eight weeks to complete.
READ FULL ARTICLE HERE