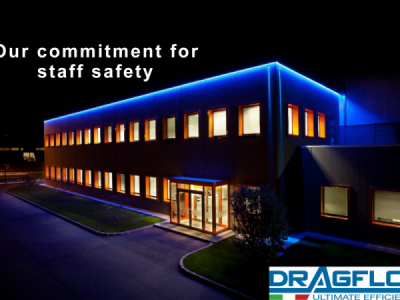 Posted on March 17, 2020
With reference to the COVID-19 outbreak, Dragflow wish to inform all its Partners, Clients and Distributors that the company continues to carry out its activities and guarantees production and distribution with the care and professionalism that distinguishes its business.
Our offices, our teams and our production plant are fully operational and the shipment of incoming and outgoing goods is regular throughout the Country and all over the world, in line with the Authorities directives.
It is our priority to safeguard the health of all our workers as we continue to operate in the attention of all the ordinances that the Authorities have implemented: Dragflow board took all precautions to make its headquarter a safe working place, putting in place all the necessary preventive and precautionary actions, both in place (workplaces spaced to a distance of at least 1 meter, disinfected gels provided to disinfect work surfaces) and incentivizing smart working for a large number of employees.
With the utmost attention and care, we surely will overcome this critical moment.
For any further information, do not hesitate to contact us.
Source: dragflow.it