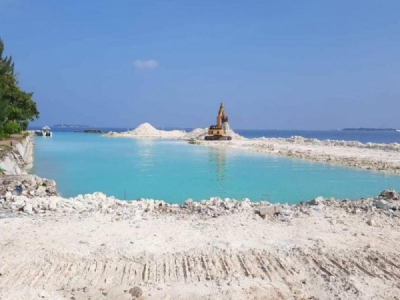 The Dhoonidhoo harbor re-development and reclamation project is ongoing smoothly - MTCC
Posted on November 4, 2020
The project is at 10 percent progression
Dredging works for the project is currently ongoing
The project was mobilized on September 21
Maldives Transport and Contracting Company (MTCC) has revealed that the harbor re-development and reclamation project in Dhoonidhoo island of Kaafu atoll, is progressing smoothly.
Highlighting that the project is at 10 percent progression currently, MTCC revealed that they are currently at the dredging component of the project. 39 percent of the dredging component has been completed.
The Ministry of National Planning, Housing and Infrastructure contracted the project to MTCC to dredge 4.61 acres in the harbor region, 3.75 acres of land reclamation, installing a breakwater measuring 370 meters, 620 meters of revetment, 250 meters of inner wall and installing a pavement measuring 250 meters, as well as installing lights at the harbor.
The project is worth MVR 51.4 million and was contracted to the company in September, the project was mobilized on September 21.
MTCC aims to complete contracted development projects efficiently, as soon as possible. The company has been conducting urban development projects across the island nation at swift speeds.
Source: raajje.mv