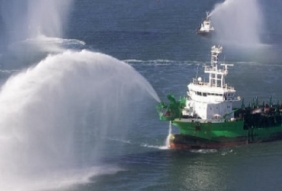 Posted on March 1, 2016
By Andrew Spurrier, IHS.com
Belgian dredging major DEME increased its net profit by 18% to EUR199.2 million (USD218.7 million) in 2015. It is a year that it described as "particularly active", given its work on a large number of major international projects.
Turnover fell by 9.1% to EUR2.35 billion after exceptionally activity levels in 2014 but this did not prevent the group from achieving an operating result (EBITDA) that was up by 23.8% to an "exceptionally good" EUR558.4 million.
The group said the strong cash flow from which it had benefited last year had enabled it to invest EUR373 million on expanding its shipping fleet, incurring only a moderate debt increase, bringing its total to EUR266.7 million.
READ FULL ARTICLE HERE