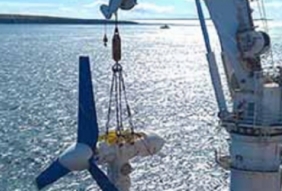 Posted on April 14, 2016
DEME Concessions, a subsidiary of the Belgian dredging, environmental and marine engineering group DEME, is acquiring a minority interest in the Scottish development company Tidal Power Scotland Limited (TPSL). Together with Scottish Enterprise, TPSL controls, among others, the planned MeyGen project, the world's first tidal power station connected to the electricity grid. By participating in TPSL, DEME is building on the experience gained with complex maritime construction projects and supporting a new technology, which after years of testing is ready to evolve from a prototype to an operational tidal turbine.
Tidal Power Scotland Limited is established by the pioneering Atlantis, which has been researching the development of tidal energy for over a decade. The technology is inspired by the developments in offshore wind energy and is developing rapidly with the planned realisation of MeyGen, the world's first commercial tidal energy project in North Scotland. As market leader in offshore wind energy DEME is investigating how it can support TPSL.
READ FULL ARTICLE HERE