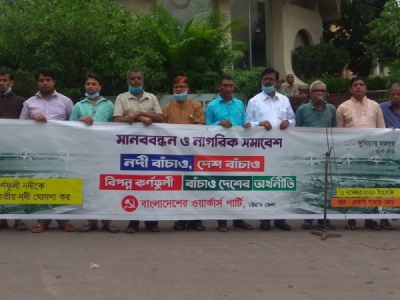 The demand of declaring Karnaphuli as the national river was raised from a rally of Workers' Party held at Cheragi Pahar intersection in the city on Sunday, November 1, 2020 | Dhaka Tribune
Posted on November 4, 2020
People from all walks of life carrying different festoons and banners participated in the program
A demand has been made for declaring Karnaphuli as the national river of the country.
The demand has been raised from a rally of Workers' Party held at Cheragi Pahar intersection in the city on Sunday.
The speakers from the rally demanded a stop to the encroachment and pollution of Karnaphuli River, carrying out the dredging activities of the river effectively and freeing the river from the menace of polythene and garbage.
With a slogan of saving Karnaphuli and the country's economy, the Chittagong district chapter of the leftist party organized the rally and human chain program.
People from all walks of life carrying different festoons and banners participated in the program.
While speaking at the program, noted Karnaphuli researcher Prof Dr Muhammad Edris Ali said that it was matter of regret that Bangladesh has no national river, even after 49 years of independence.
"The river has a great contribution to the national economy. Around 98% of the country's export and import is done through Chittagong port which is located by the estuary of the river. Chittagong port is the 58th busiest container port among 100 top ports across the globe," said Prof Edris.
"The river is rich with different fish species, microorganisms, flora and fauna. Water is flown to five other rivers from Karnaphuli. It is a demand of time to declare the Karnaphuli as the national river," said the researcher.
Addressing the chair of the program, Abu Hanif said that the Karnaphuli is a lifeline of the country's economy.
"However, the river is now gasping due to mindless pollution and encroachment. The country's economy will collapse if the river is not saved," he said.
Sharif Chowhan, Chittagong chapter secretary of Workers' Party, said an initiative to dredge the river was taken long ago in order to ensure its navigability.
"The dredging activities are now limping. The river bed has been filled up with polythene. Sediment is being deposited around the third bridge of the Karnaphuli. Hundreds of mills and factories have been set up on the river banks. The High Court order to evict the river grabbers is yet to be implemented," Chowhan also said.
"The mindless activities will stop with the declaration of Karnaphuli as a national river," he added.
Source: dhakatribune