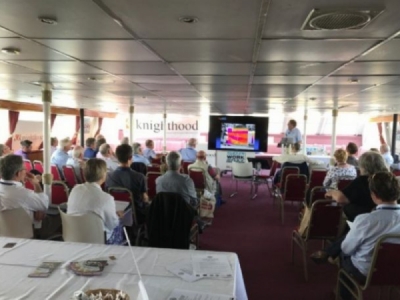 A 'live' Seawork conference in happier times. Bring on the vaccine!
Posted on November 4, 2020
There is now less than 24 hours to go to the first in the Commercial Marine Network's new free to attend online conference series 'Get Set for Workboat 2050'.
In this set of 5 free to attend online conferences, starting on the 5th of November, expert panels will navigate the waters of decarbonisation compliance in the workboat industry.
Session 1: Thursday 5th November at 10:00 UTC:
Current biofuel choices & optimising use of new fuels in existing diesel engines
Leading expert in next generation vessel design, Andy Page – MD of Chartwell Marine, will moderate this series of online conference panel discussions. A well-respected chartered engineer, pioneering innovation in his field, Andy is helping to lead the way in industry decarbonisation.
The welcome address will come from Kerrie Forster, CEO, Workboat Association – "The trade association for Workboat Owners, Operators, Stakeholders and Professionals."
Dr Jonathan William, Marine South East: Jonathan is going to present on novel fuels including barriers to entry, the glycerol and plaxx alternative fuel options, and early adopters in the sector.
Martin Jackson, PME Power Systems Group: Martin will look at how MAN are developing a host of different methods of emission reduction to optimise engines, in addition to biofuels. Martin is also looking to reference a case using biofuels.
Mark Coulter, WP Group: Mark will focus on HVO Biofuels covering some background on HVO biofuel along with the all important aspects of compatibility, costs and current and future availability.
Register now to join our first session in the series on Thursday 5th November at 10:00 UTC.
Source: maritimejournal